After 30 years, Noah is now an indispensable part of the hearing care industry. Here is how it happened.
At the beginning of 1993, four of the largest competitors in the hearing care market made an unprecedented alliance for the good of the industry.
"In 1993, the move to programmable hearing instruments was going very slowly," says Arild Rasmussen, Managing Director of HIMSA. "And the benefits of digital technology were not being fully realized. GN Danavox (now GN Resound), Oticon, Phonak and Widex had the foresight to recognize the need for cooperation. By working together, they could improve the situation for patients, audiologists and themselves as well."
The result was a company called the Hearing Instrument Manufacturers' Software Association, or HIMSA.
The influence and strength of HIMSA grew further when hearing instrument manufacturers Siemens (now Sivantos) and Starkey joined the group. Today, over 130 companies have joined HIMSA and provide important backing and support for the Noah standard.
"Because of our important position in the hearing care industry, people often think our organization is quite large," says Rasmussen. "The truth is, we are only 20 employees in Denmark and the US, most of whom are involved with the development and testing of our software."
1993 – How it all began
In 1993, the promise of programmable and digital hearing instruments seemed a long way away.
The technology was available, and several manufacturers had already offered their first programmable hearing instruments. However, programming these instruments was a complex procedure, and was different for each manufacturer. In addition, the cost involved in developing programming equipment was often prohibitive.
"It was clear that something needed to be done to simplify and unify the process of programming hearing instruments" says Rasmussen. "The result was HIMSA, a cooperation among competing hearing instrument manufacturers that was unparalleled in any other industry."
In May 1994 the first Noah software, with its unified patient database, was released to hearing care professionals in Germany.
"Many customers contact HIMSA and ask what the letters in Noah stand for," says Rasmussen. "Unfortunately, we need to disappoint them. The name Noah is not an acronym. The name Noah was chosen based on the story of Noah and the ark. Like Noah's ark, Noah has brought the hearing care industry together under a single software standard."
Now, 29 years later, it's time to take a look back at the progress made by the Noah standard.
1994 – One Standard for All
From the very beginning, HIMSA member companies recognized that Noah needed to provide a complete standard, with support from the entire industry.
This is why manufacturers of audiological equipment and of third-party business systems, as well as hearing care chains, have played a key role in defining Noah.
Within the first four years, HIMSA officially released data standards for hearing instrument selection, remote controls, audiograms, HIT, REM, Admittance (Impedance), Loudness Scaling and OAE. And many more data standards would follow.
"It has always been important that hearing care professionals have a complete software package for hearing care, and a choice of Noah solutions to choose from," says Rasmussen. "By inviting all interested parties from the very start, HIMSA was able to create a standard that everyone could stand behind."
By October 1994, five months after Noah was released, 17 companies supported the Noah standard, including seven major instrument manufacturers, seven audiological equipment manufacturers and three office system vendors. A year later, over 30 companies had joined the list, and by November 1996, 48 companies backed the Noah standard.
With this many member companies, it was vital to ensure that their fitting software worked well together. That's why in July 1994, HIMSA established its module certification program. Module certification helped eliminate conflicts, allowing the trouble-free sharing of Noah patient data.
1996 – Just What the Doctor Ordered
Sales numbers show that the Noah standard was exactly what the hearing care industry needed.
By November 1994, after only six months on the market, Noah had already sold over 500 copies. Two years later, over 14 country versions were available and there were nearly 6000 Noah installations worldwide, including over 3000 in the USA, over 1500 in Germany and over 500 in France.
In other words, in November 1996, more than one in four audiologists were already using Noah software for their daily hearing tasks!
More importantly, this quick adoption of Noah had a significant effect on the acceptance of programmable hearing instruments.
In 1994, just after Noah was released, programmable hearing instruments claimed only a 6 percent share of the market. Two years later, this share was up to 13 percent. And the move to programmable hearing instruments has continued at an astounding rate, thanks partly to the ease of using Noah software.
2000 – Refreshing NOAH
After 6 years of growth, it was time for the first major upgrade of Noah – NOAH System 3.
With help from our member companies, HIMSA designed a new Noah software version based on new technology to better meet the needs of hearing professionals.
The result was a stable Noah platform, helping users perform their daily tasks for over 10 years.
2003 – NOAHlink – unbound instrument programming
In 2003, the hearing care industry approached HIMSA with a new challenge: to create the next generation of programming interface. HIMSA was the natural choice.
The result was the wireless NOAHlink interface. At its height, all major instrument manufacturers supported NOAHlink, and there were more than 80000 units in use worldwide.
2011 – If it's not broke … make it better!
In 2009, hearing care professionals were happy with NOAH 3 software. It just worked.
So why make a new version of Noah from scratch?
"Sometimes the benefits of a new product are not always obvious," said Rasmussen, "In the case of Noah 4, we had a vision for a more usable design and technology support not available in NOAH 3, a design which could help save professionals considerable time while using Noah for their daily tasks."
So in 2009, HIMSA began the process of designing Noah 4.
For the first time, HIMSA directly asked Noah users for their feedback. What functioned well in NOAH 3? What didn't function so well? What was missing?
The answers to these questions helped HIMSA release a new and modern interface based on advanced technology in June of 2011.
2012 – Help us Help You
In 2012, HIMSA wanted to continue the spirit of close communications with hearing professionals that helped create Noah 4. That is why NUG, the Noah Users Group was born.
"The goal of HIMSA is to fulfill the needs of hearing care professionals through our products," said Rasmussen. "Feedback from NUG has been invaluable in helping HIMSA provide the features and functionality needed most by Noah users."
If you would like to be part of NUG, you can sign up by visiting www.himsa.com and clicking on NUG in the menu.
2015 – Noah Mobile Initiative
Imagine using your iOS or Android tablet to work with your Noah patient data, while inside and outside of your office!
No need to imagine.
"HIMSA has defined a framework for safe and secure way to access Noah data over the Internet," said Rasmussen. "Today, several of our member companies already provide apps to allow you to work with your Noah patient data from remote locations."
In particular, Noah Mobile has opened up for Noah integration with a variety of web-based and tablet-based audiometer products.
2016 – Welcome to the Age of Wireless Programming
In September 2016, HIMSA announced the release of Noahlink Wireless, the first industry-standard device for programming Bluetooth Low Energy (BLE) enabled hearing instruments. The Noahlink Wireless programmer provides a completely wireless interface between your fitting computer and a patient wearing BLE-enabled hearing aids.
"The age of BLE-enabled hearing instruments has arrived," stated Rasmussen. "This is why the industry's largest manufacturers have gotten together to design a common industry standard device for programming these new instruments."
Noahlink Wireless has been developed with the guidance and cooperation of HIMSA's partner companies – ReSound, Oticon, Sonova, Starkey and WSA.
In 2023, it already supports BLE-enabled hearing instruments from 16 member companies and over 100000 units have been sold worldwide. And Noahlink Wireless 2 is now on the way, with hardware component upgrades to keep up-to-date with the latest technology changes.
For a complete list of certified Noahlink Wireless fitting modules, click on Noahlink Wireless at www.himsa.com.
2022 – Noah Anytime, Anywhere
In February 2022, HIMSA released perhaps its most ambitious product to date, Noah ES.
"Noah ES stands for Noah Extended Services and, as the logo implies, it is a cloud-enabled version of Noah," stated Rasmussen. "With Noah ES, Noah Services reside and are maintained in the cloud, including database backup, maintenance, security monitoring and user authentication."
For hearing care professionals, Noah ES means that they now have access to their Noah patient data 24X7, from anywhere there is Internet access.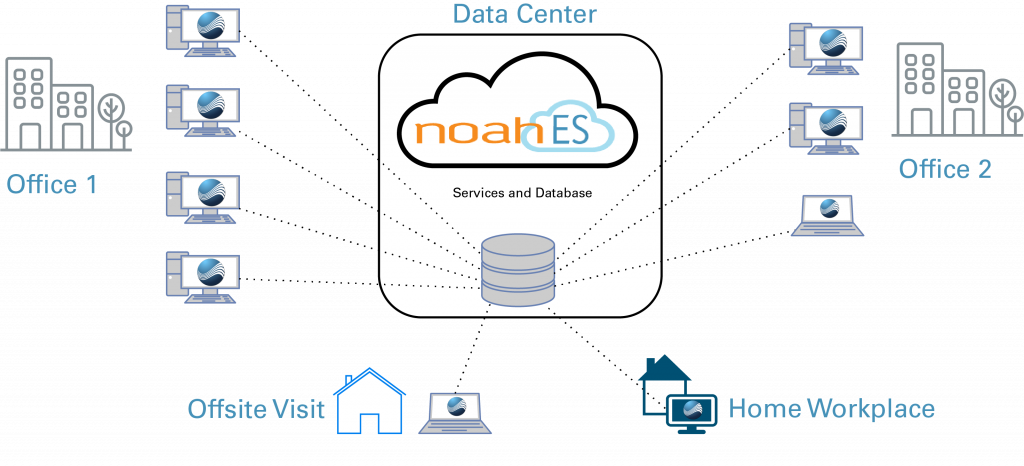 Noah ES is also low maintenance – patient data is maintained in professionally maintained data centers, backed up daily and physically protected from natural disasters and physical theft. Noah ES is a fully HIPAA and GDPR compliant solution.
And setting up Noah ES is easy. The Noah ES portal makes it easy to set up accounts and add additional accounts as a business grows. And Noah ES is networked by design, so there is no need to set up specialized networking support to share a common database.
Today …
Today, over 150 companies support the Noah standard, and over 35,000 audiologists in over 100 countries use either Noah ES, Noah System or a Noah compatible business system.
Noah ES now has over 1000 users worldwide and the number is growing. And a HIMSA business system member company has officially released the first Noah ES compatible EMR system.
If you want your EMR integrated with Noah ES, tell your EMR manufacturer to contact HIMSA.
… and Tomorrow
Noah users and member companies continue to provide excellent input for future features and functionality, to help simplify and standardize common audiological tasks.
No matter what the future brings, HIMSA looks forward to working with hearing care professionals for many years to come.