If you are in Seattle this month for the AAA 2023 + HearTECH Expo, you are cordially invited to stop by the HIMSA booth 1128 and help us celebrate the 1-year anniversary of Noah ES!
Noah ES is also celebrating another important milestone.
As of this month, over 1000 users at over 100 companies now use Noah ES for their daily hearing care tasks!
What is Noah ES?
Noah ES a cloud-enabled solution, accessible anytime, anywhere.
With Noah ES, Noah Services reside and are maintained in the cloud, including database backup, maintenance, security monitoring and user authentication.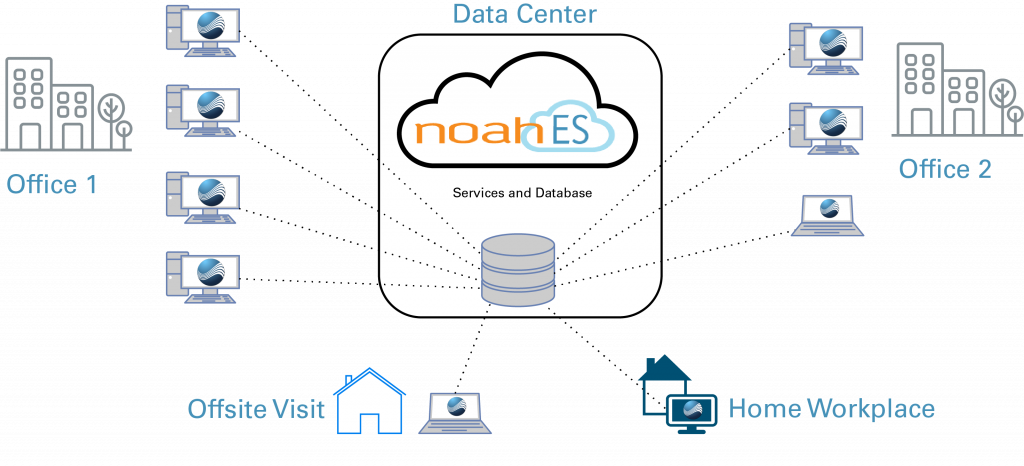 Noah ES Benefits
Accessibility 24×7 – Working from home or on the road? Not a problem. With Noah ES hearing care professionals have access to their Noah patient data 24X7, from anywhere where there is Internet access.
No Cost Networking – Noah ES is networked by design. You can share your patient database with all your Noah ES users at all your offices, at home and on the road. All without additional installation, maintenance or expense.
Next to No Maintenance – With Noah ES, most maintenance is taken care of for you in the cloud. Your Noah server is always kept up-to-date and maintained without disrupting your business. And automatic database backups are part of the service, ensuring your patient data is safe should the worst occur.
Data Security, Protection and Compliance – Your Noah patient data is securely stored in professionally maintained data centers and backed up daily, to help ensure it is protected from natural disasters and physical theft. Noah ES also helps ensure that your patient database is protected in line with your countries regulations (HIPAA and GDPR), reducing your compliancy workload.
A Database that Grows with You – With Noah ES, your Noah database size will grow automatically, as you need it. No more disruption or "Database Full" errors to contend with. In fact, if you subscribe to seven or more Noah ES users, you will automatically receive a 150 GB of data storage at no extra cost.
Flexibility for Your Business – Noah ES accounts can be added or removed on the fly as your business evolves. Additional user accounts can be added immediately as new employees or offices are added. And each employee can work from anywhere, both in the office and remotely, and still access their patient data.
Easy to Get Started – The Noah ES portal makes it easy to set up accounts for your current employees and migrate your patient data. What's more, the Noah System client software will still reside on your PC, and perform in much the same way as it always has. This means no additional training is necessary for your hearing care professionals who already use Noah.
Sound Interesting?
Then stop by booth 1128 and we'll be happy to give you a demonstration.
And as a thank you, you can also score your own wireless phone charger, while supplies last!